Kristall in Karwendel
Karwendel Nature Reserve - Experience Karwendel & Rofan Mountains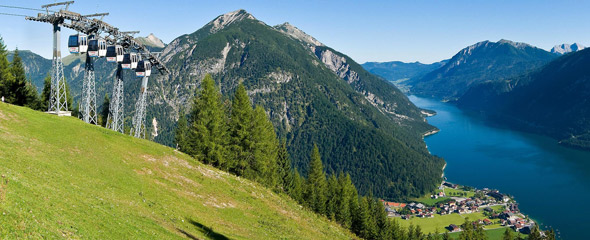 Hiking, mountaineering and biking are particularly enjoyable experiences in the natural surroundings of Karwendel mountains. The approximately 920 km² large
Karwendel
Alpine Park
is well known for its natural beauty much further than the borders of Tyrol.
At the centre of the Karwendel Alpine Park the largest nature reserve, the 543 km² "Karwendel Nature Reserve" is situated right on the doorstep of Luxury Hotel Kristall. This untouched nature comprises several well-known valleys including Karwendeltal, Rißtal and Halltal, and enjoy international acclaim:
Here in the Karwendel Nature Reserve a unique alpine landscape opens up to you. The Kleine and Große Ahornboden (small and large maple plains) and the Vomperloch, the "Grand Canyon" of Karwendel are highlights for every nature lover! Whether you enjoy a leisurely walk or demanding mountain hike, stunning mountain panoramas are guaranteed on a holiday in Karwendel ...
>> Kristall Holiday in Karwendel