Tyrolean Speciality - Rock Oil
Rock Oil Museum in Pertisau - Black Gold in Achensee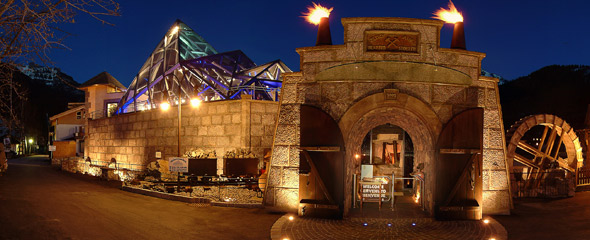 You may have already enjoyed the effects of Tyrolean rock oil, a natural product that is treasured as a traditional household remedy. Pertisau is the where the source for this valuable liquid can be found. Only here in the Achensee region is it obtained and then processed into beneficial bodycare and healing products.
At the new rock oil vitality mountain in Pertisau an exciting trip into the past awaits you. You will experience the history of obtaining Tyrolean rock oil which reaches back over a hundred years. An interactive audio system and a multi media show show you all about the "black gold of Achensee" and explain fascinating discoveries like a 8000 year old stone hammer and equipment from the start of rock oil mining.
For the perfect end to the day, treat yourself to a Tyrolean rock oil treatment at Luxury Hotel Kristall. Try the rock oil fango or rock oil bath and experience this valuable oil and the benefits it brings your skin.
>> more information about the Rock Oil Museum