Snow Bike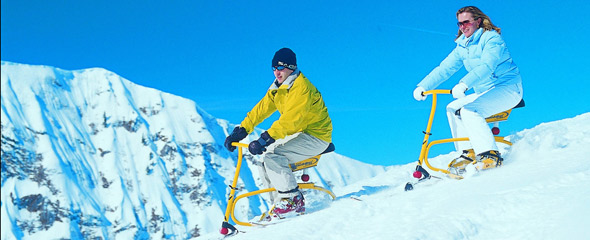 The Sport and Vitality Park Achensee is the number 1 snow bike region in the world and the place for snow biking in Europe!
The "bike with skis instead of wheels" is a further development of the heavy and rather difficult to handle "ski bob" from the 70's. A snow bike weighs only 7.5 kg and makes conquering the slopes lots of fun!
Snow biking is also easy to learn. After just a few minutes you will feel comfortable in the saddle and after an hour you will be conquering every slope without difficulty.
If you fancy giving snow biking a go on your winter holiday at Kristall then the ski school in Pertisau offers a snow bike taster session for which you will receive a 5% reduction as a guest of Kristall!
So what are you waiting for?
Book fun in the snow &
send us a non-binding winter holiday enquiry!